Nowhere in Europe quite has to power to captivate and charm quite like Venice. If you're after a European city break, 3 days in Venice is the perfect amount of time. A long weekend in Venice allows enough to discover many of the main attractions and sights.
This unique city is a rather beguiling patchwork of over 100 small islands in a lagoon in the Adriatic Sea, connected by bridges. It's one of the most popular places in the Veneto region of Northern Italy and can get very crowded in the peak season.
Venice is best known for its ancient canals, historic architecture and spectacular scenery. Some of the most iconic sights include Piazza San Marco, St. Mark's Basilica, Doge's Palace and the Rialto Bridge.
3 days in Venice
I've included a wide range of activities and sights so that you can tailor your own 3-day Venice itinerary. Choose from iconic attractions, food tours, off-beat places and boat trips to colourful Venetian islands.
We talk more about travel planning on my weekly travel podcast – Travel Goals. If you love listening to travel podcasts, then make sure to subscribe to the Travel Goals podcast.
You'll learn what's new in the travel industry on this show. There's also travel hacks, destination inspiration and stories of travel adventures from around the world.
3 nights in Venice
3 nights in Venice is a good introduction to the city for seeing the highlights and getting a flavour of this fairytale city on the water.
Explore marble palaces and the Grand Canal, slip down Venetian side streets and wander around the quieter neighbourhoods where the locals hang.
The best time to visit Venice is probably between September and November when the city is quieter. The temperature will also be more moderate and you'll also find lower hotel rates.
If you are looking for a long weekend in Venice, then check out my comprehensive guide on 3 days in Venice and start planning your dream city break now!
Day 1 in Venice
Take a Venice Gondola ride
The most cliché activity in Venice is also one of the loveliest ways of seeing the city. A Venice gondola ride is a pretty pricey endeavour though. The city of Venice sets official rates for gondola rides and they ain't playing.
Gondola rides in Venice cost around €80 for 40 minutes. If you want to romance your beloved in Venice, you are going to have to cough up darlings.
It's important to manage your expectations on a gondola ride. You might expect to quietly float through uninterrupted waterways with 'O Sole Mio' being softly sung by you gondolier.
The reality in the peak season is crammed canals and gondoliers loudly chatting with each other. Having said that it's still absolutely the best way to see Venice.
Budget gondola rides in Venice
A good way of reducing the cost of a Venice Gondola is by sharing with others. Up to six people can share a gondola, the price is per boat, not per person. You can reduce the cost significantly by boarding a full boat.
If you are looking for budget gondola rides in Venice then why not consider a shared Gondola trip? They are ideal if you are travelling alone, or as a couple. If you're travelling in a group, you can all jump into a gondola together and split the cost.
A good way to get a low-cost gondola selfie is to head to a traghetto stop on the Grand Canal and then pay just €2 to cross the canal.
Sample local dishes on a Venice food tour
Do you love eating your way around a new city? Aspiring foodies should definitely book a Venice food tour. It's a great way to learn more about the best food in Venice whilst being led by a local guide.
Being led by an expert guide means you will discover a unique insight into where Venetians like to dine. If you only have 3 days in Venice, it's a great way of ensuring that you eat local dishes and delicacies.
Book a Venice food tour
There are several food tours you can take in Venice, depending on your group size and budget? If you love to discover local dishes and secret spots, then I would recommend a Venice street food walking tour. On this tour, you will learn more about Venetian food and local specialities.
I went on this brilliant tour and I felt it was a brilliant introduction to the Venice food scene. On this tour, we visited the Rialto Market, drank wine in bacaris (old bars], and sampled Cicchetti [Venetian snacks]. Booking a Venice food tour is a must for food and wine lovers!
Buy books at Acqua Alta bookshop Venice
Possibly one of the most Instagrammable places in Venice, the Libreria Acqua Alta bookshop is book lover heaven. Overflowing with books as well as the odd feline stretched out lazily over Italian paperbacks.
Libreria Acqua Alta is located in Calle Longa, S. Maria Formosa. It really is a lovely Venice book shop to visit, especially if you love cats.
Venice book shop
It's a book lover paradise here. There is wall to wall books, maps, magazines and comics spilling out over shelves. There's even a gondola in the middle of the store stuffed with books.
Apparently, this is not just mere decoration but to save the books from flood damage. Throughout the year the rising waters of Venice creep into its alleyways and buildings.
The Libreria Acqua Alta bookstore also has a little seating area at the back where you can sink into a large chair that overlooks a canal and watch the boats glide by.
It's definitely a rather whimsical way of spending an afternoon in Venice when the crowds get too much.
Visit the Rialto fish market
Get a slice of local life at the Rialto fish market. It's a historic market in venice, where local fishermen sell locally caught fish from the Venetian Laguna to locals.
Here we learnt more about the history of the Rialto market, including the century's old pricing and sizing system. This that can still be seen on a stone slab above the market today.
Venice began regulating the sale of fish since 1173 and vendors caught selling undersized fish were severely punished.
As you wander around you will see squid, clams, crabs, tuna, swordfish and eels laid out over ice. It's quite the experience to wander around absorbing the sights and indeed smells, of this rustic market.
Day 2 in Venice
Take a trip to Murano
If you are looking for a great day trip from Venice, why not board a boat to the Venetian island of Murano? Murano is located 1.5km away from Venice and is one of the most popular islands in the lagoon.
Murano is best known for its traditional glass blowing. You can actually take a sneak peek inside a local glass factory and see a glass-blowing demonstration.
There are many local vendors selling boat trips and tours of Murano. Many of these include a glass blowing demonstration.
How to get to Murano from Venice
Murano is easy to reach from Venice by water bus. You can travel from the centre of Venice to Murano on the ACTV Vaporetto lines. [The Venice waterbus network]. These water buses leave from several stops in the centre of Venice.
The quickest way to get to Murano from Venice is to take a Vaporetto from the ACTV docks, [located at Fondamente Nove].
If you're thinking of travelling around several of the Venetian islands, you should buy a multi-day unlimited Vaporetto pass when you arrive in Venice. This pass allows you to so that you can hop on and off the Venice public water buses.
Murano glass blowing tour
One of the best things to do in Murano is to watch a glass blowing demonstration. Now I know what you're thinking, I bet it's along the lines of ' Pip, are you seriously suggesting I spend my time in Venice watching an old Italian man make a vase?' I was right there with you on the cynicism front at first.
I had a case of wine-induced YOLO one afternoon though, so decided to give it a whirl. It turns out that watching Italians shape molten glass is strangely fascinating.
After watching a master craftsman shaping glass whilst a guide describes the various processes and history you are then cordially invited to exit via the factory shop, well played Venice, well played. It's definitely the best place to buy glass in Venice and it's helping to support the local Venice economy as well.
Buy Murano Glass
Fear not, you aren't really given the hard sell, in fact, our guide was pleasant enough to answer questions on the area.
He was also kind enough to advise how to get to the nearby island of Burano, rather than pushing us to purchase an ostentatious glass necklace. If buying coloured glass is your bag, then buy directly from the Murano glass factory.
At least you know that you are going to be acquiring an authentic, gaudy glass lampshade made by a local. Murano is definitely worth spending a few hours exploring and stopping off for a cheeky Spritz or three.
Discover off-beat Venice neighbourhoods
To lose yourself in Venice is the surest way to fall in love with it. Throw away the map, switch off the GPS and start wandering away from the tourist areas.
Venice is divided into six unique neighbourhoods, Dorsoduro, San Marco, San Polo, Santa Croce, Cannaregio, and Castello. All the Venice neighbourhoods have different attributes and features, just waiting to be explored.
Try and find hidden alleyways and residential areas where you can see Venetians go about their daily lives. You'll find the food and drink options also become more reasonably priced the further you get away from the tourist hot spots.
Spend time really looking at the gorgeous architecture, the colours of the canals and lines of laundry billowing in the breeze.
Visit Venice Giardini
If you wish to revert back to using a map then I would recommend walking towards Venice Giardini. Here, you'll discover a pretty parkland that has fewer crowds and relaxing places to sit and regroup.
As far as public gardens go, it's not exactly spectacular but it does provide some calm respite from the heat and the crowds. The path by the water also gives great views across the lagoon.
Near this area, you will also find Serra dei Giardini, a beautiful Greenhouse that was built in 1894 and now serves as a highly Instagrammable flower shop and cafe.
It was really quiet and peaceful when I visited and spent a few hours sipping a coffee and relaxing in pretty surroundings.
If hanging with cruise ship crowds is not your travel style, then I would definitely recommend getting off the beaten path and discover Venice's hidden beauty for yourself.
Take a trip to the colourful island of Burano
The picturesque Venetian island of Burano is best known for its colourful fishermen's houses, lace making and seafood. You can book an organised Burano tour, or use a Vaporetto pass to take water bus line number 12 to get from Venice to Burano.
This water bus leaves from Fondamente Nove. I caught the waterbus from Murano to Burano and had a very lovely journey over, looking out over the pretty Venetian Lagoon. Most Burano and Murano boat tours typically last around 4-5 hours, so you can fit both islands into 1 day.
Burano is a small island with around 2,000 full-time residents and its main industry is tourism. Visitors come to purchase its exquisite lace and also photograph the colourful canals and houses. If you're looking to escape the crowds, it's much quieter than Vence, especially in the off-season.
What to do in Burano?
The Island of Burano feels like a world away from the bustling crowds of St Mark's Square. There small seafood restaurants, peaceful lace shops and local fishing boats bobbing on the horizon.
If you want to see lace being made head to the historic Martina Vidal. This atelier has three floors of lace clothing, housewares, and gifts.
Make sure to check out the delicious Seafood dishes Burano. The island restaurants specialise in freshly caught fish from the surrounding lagoon and the Adriatic Sea. Frittura mista, seafood risotto and spaghetti vongole all feature heavily on Burano restaurant menus.
For lunch options, I would recommend Trattoria da Primo e Paolo, Ristorante Pizzeria Principe or Panificio Pasticceria Garbo. Make sure to also try Burano biscuits called "Essi". They can be bought in most shops on the island and are most tasty.
Photograph the colourful houses Burano
It really is a photographer's paradise here and you can spend many hours taking snaps, or perhaps people watching on one of their pavement cafes.
The best time to get your pictures of the houses in Burano is during the golden hour. You'll get some really dreamy shots in this light.
If you love travel photography, Burano is probably the best place in Venice to get those dreamy vacation shots for your Insta.
Burano Vaporetto timetable
Honestly, it's ridiculously easy to lose track of time when on Burano. It's not a large island but there are so many beautiful locations, houses that you can get carried away taking photographs and miss your boat back to Venice.
Make sure to check the Burano Vaporetto timetable, so that you know the boat schedule back. I almost missed the boat back and had to leg it to the next stop!
If you're thinking of travelling around several of the Venetian islands, you should buy a multi-day unlimited Vaporetto pass when you arrive in Venice. This pass allows you to so that you can hop on and off the Venice public water buses.
Saving money on a city break | Tips, tricks & hacks
Are you looking to book a dream city break but worried about costs? Between flights, accommodation and spending money, the cost of city breaks can soon add up. There are thankfully lots of easy ways of saving money on a city break.
Day 3 in Venice
Venice walking tour
One of the best ways to explore Venice is to see through the eyes of a local on a Venice walking tour. It's great to have a knowledgeable local guide to explain the history of Venice and to add context to the sights you are seeing.
If you want a whistle-stop tour of the main sights of Venice, then I would book a Venice Guided Walking Tour in advance.
On a typical Venice tour, you'll see the main sights like the Rialto Bridge, St. Mark's Square and the Grand Canal. You can also book a combination walking and gondola tour to discover Venice by land and water.
There's also the option to go on a hidden Venice tour if you want to discover some of the more off-beat places in the city.
St Mark's Basilica tour
One of the best things about a Venice tour online is that many will include a 'skip the line' entry to St Mark's Basilica.
You can jump to the front of the queue and spend some time inside admiring its architectural features including mosaics, Byzantine domes and marble-clad walls.
St Mark's Basilica is an iconic, Cathedral church of the Roman Catholic Archdiocese of Venice. It's one of the most famous tourist spots in Venice. It's a well-known example of beautiful Italo-Byzantine architecture in Italy.
You can also book a separate Skip-the-Queue St. Mark's Basilica & Terraces Guided Tour, if it's not already included in your Venice walking tour.
Wander around Venice art galleries
There is a thriving art scene in Venice, with galleries such as Teatrino di Palazzo Grassim, hosting permanent and temporary exhibitions, as well as the popular Peggy Guggenheim Collection. Here you will find a large collection of contemporary art.
There are works from iconic artist such as Jackson Pollock and Picasso, housed in a beautiful 8th century Grand Canal palazzo.
Ca' Pesaro is another fantastic modern art museum featuring artworks from the 19th and 20th centuries.
How long to spend in a Venice art gallery depends on how interested you are in art? I would spend 2-3 hours per gallery, to get the most out of your experience.
Check out the Venice Support installation
Venice also has a major art show every year. The Venice Biennale is held in locations around the city, showcasing art exhibitions and installation. One particular installation from the 2017 show is quickly becoming an iconic feature of Venice.
The art installation is called "Support," created by artist Lorenzo Quinn. It features a giant pair of hand that are appearing to hold up Venice's Ca'Sagredo Hotel.
The piece is meant to represent the rising threat of climate change and its effect on the floating city and the world.
Where to eat in Venice
Venice has a bit of a reputation for wildly overpriced food and tourist traps serving up shoddy food. Whilst there are many overpriced venues, there are also locally run Venetian restaurants serving up high quality, reasonably priced dishes. You just have to know where to look.
With a little research and insider knowledge, you can hunt down the best restaurants, cafes, pizzerie and Bacari in the city.
Try and seek out local, Venetian dishes such as 'Spaghetti in nero di seppia', which is spaghetti served with squid and coloured black with squid ink.
Or maybe try seafood dishes, Venice is famous for the fresh fish that is caught in its lagoon. Look out for grilled octopus and 'Baccala mantecato', which is dried codfish.
How to avoid 'tourist trap' restaurants in Venice
Only 1% of restaurants in the San Marco area of Venice are actually owned and operated by locals. This creates the perfect conditions for lots of 'tourist trap restaurants' to spring up in the city.
There are many tricks to avoid dining in a tourist trap in Venice so that you don't waste money on over-priced, bland food.
Here are some of the obvious Venice tourist trap restaurant signs:
The restaurant has boards outside displaying pictures of the food.
Menus in multiple languages
International flags on the building
A sign that reads 'Tourist menu'
Waiters standing outside trying to coax you in
Big 'No cover charge!' sign
If you spot any of these things, tun for the hills darlings, [or canals as you are in Venice]. You are about to be charged €30 for watery, lukewarm pasta.
Best pasta in Venice
Instead, try and find Venice restaurants located away from tourist hot spots. I had a gorgeous pasta dish, a glass of house red and a coffee for €10.50 at Ostaria a La Campana. It's a lovely locals' Trattoria located on Calle dei Fabbr.
Some of the best places for Pasta in Venice include:
Osteria San Marco
Ai Mercanti
Alle Testiere
Il Ridotto
Check out a Venice Bacari
When in Venice, try and visit a range of Bacari [local wine bars], to save money on food. You will also have an authentic, local experience as well. At a Bacari, you can order lovely Cicchetti snacks, which are the Venice take on tapas.
Try flavoursome Bacari snacks in Venice such as polpette (fried meatballs). Baccalà mantecato (creamed cod), or slices of grilled polenta. Prices for Bacari snacks prices tend to be around 1-2 euros per snack.
You can also eat Bacari snacks whilst you stand to save money. I ate a delicious selection of Chicchetti at 'Ristorante Al Bagolo', located on Campo S. Giacomo dell'Orio. A few filling snacks and coffee cost only €7.50. It is one of the best Bacari places in Venice in my opinion.
Feast on Venice Pizza
Many restaurants will serve you overpriced, mediocre pizza in Venice. Especially if you want to sit outside in a touristy area.
If you are looking for a cheap pizza in Venice then I would recommend swinging by 'Pizza 2000' on Campo Sant'Agostin. Here you can pick up a tasty pizza slice for a mere €2.
Other great pizza places in Venice include:
Rossopomodoro
Pako's Pizza & Pasta
Antico Forno
Pizzería Antico Panificio
Venice coffee
When seeking out coffee in Venice, there are a few things to keep in mind. Keep it simple. Order 'un caffè' rather than your usual 'Venti, Soy, No Foam Latte'.
It costs more to sit and drink your coffee in Venice. Why not stand as the locals do and ingratiate yourself into Italian culture? This is a general rule for most Italian cities including Rome.
Some of the best coffee shops in Venice include:
L'Ombra del Leone
Torrefazione Cannaregio
Café del Doge
Tea Room Beatrice
If you want to sit down for a coffee, try and find a cafe that is away from tourist hotspots. I had a reasonably priced cappuccino at Serra dei Giardini.
This is a lovely converted greenhouse cafe located in Viale Giuseppe Garibaldi. They also do a lovely glass of house red for €3.50.
Have a Spritz in Caffè Florian
If you simply must have food or drink in a Venice tourist hot spot then at least make sure wherever you visit is worthwhile.
If you want to spoil yourself I would recommend enjoying a Spritz at Caffè Florian, on busy St Mark's Square. It's the oldest cafe in Venice and has been open since 1720. It's totally one of the most beautiful cafes in Venice.
St Mark's Square drinks
Admire the lavish, Neo-Baroque decor and listen to a quartet of musicians playing elegant pieces of music.
It costs €13 for an Aperol Spritz, whilst this is quite steep for one drink. The spritz did come with some small snacks though, which you would hope at that price,
I also had a great seat to listen to the musicians in Caffè Florian. I also managed to make my drink last for an hour and a half. Like a pro.
Where to stay in Venice
Venice is made up of 9 neighbourhoods including Lido, Murano, San Marco, San Polo and Santa Croce. Each neighborhood has its own charm and range of hotels and accommodation available.
You can find a hotel to suit your budget and length of time by using my recommended travel resources such as Booking.com and HotelsCombined, to find the best hotel deals.
The administrative area of Venice covers the lagoon, islands and the mainland, so you'll need to do some research before you book your stay.
If you are looking to save money on a city break in Venice, choose the Lido or Mestre as your accommodation base. Another trick is to book your Venice Hotel well in advance to save money.
Getting to Venice
The main international airport in the area is Marco Polo airport, a huge hub for European and international flights. You can also fly into Verona Valerio Catullo Airport and Treviso airport.
To search for flight deals to Venice check out sites such as Skyscanner, Kayak and Travel Supermarket to compare the costs of flights. My top tip to save money is to fly mid-week and take just hand luggage if possible.
I also highly recommend you always get travel insurance for your trips. Check out my Travel Insurance Page to see out why. I recommend World Nomads or Post Office travel Insurance.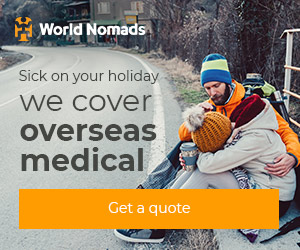 Marco Polo Airport to Venice
Be aware that if you are flying into Venice, a private Water Taxi from the airport to Venice costs between 150€ and 200€. There is a cheaper boat ferry service from Marco Polo Airport to Venice, on the Alilaguna line. A return ticket on the Alilaguna boat costs around € 27.
The cheapest way to get from Marco Polo Airport to Venice is by bus. The ATVO shuttle bus takes around 25 minutes to get into Venice and costs just € 15 for a return ticket.
If you're travelling by train in Italy, the Veneto region has an extensive rail network. The main cities in the region are handily are connected by frequent daily connections. Check out rail times and stations on the Trenitalia website.
Airport Parking and lounges
Save money on your Italy trip by booking your airport parking in advance. You can find great airport parking deals online with Holiday Extras.
Get up to 70% off airport parking when you book in advance online. Keep your car secure and safe whilst you are on your holidays in an official airport car park.
You could also park your car at the airport with Car & Away. It's the first person to person car-sharing service that matches car renters to car owners in a very simple and transparent way.
The service gives airport parking customers the opportunity to 'rent and earn' whilst on holiday. It's a unique way to save money for travel, that's for sure.
Why not spoil yourself with airport lounge access before your flight? Lounges don't have to be super expensive, book online with Holiday Extras to save money on your lounge splurge.
Are 3 days in Venice enough?
If you travel plan like a boss, you can see an awful lot in 3 days in Venice. As one of the world's greatest cities for art, architecture and history you could spend an inordinate amount of time discovering Venice. However, if you are short on time, you need to be strategic as to what you want to see and do.
I would make a list of your 'muse see places and then try an book any tours, attraction tickets and passes in advance, so you have definitely secured tickets. A walking tour is also a great way to get to see many of the highlights of Venice, in a few hours.
Another tip is try try and arrive as early as possible on day one and leave as late as possible on day 3, to maximise your time in Venice.
If you have some flexibility in your travel itinerary you could easily spend a week in Venice without getting bored. It truly is a magical city that will leave you wanting more.
Venice FAQ
Are you planning a trip to Venice? Where are you planning on visiting? Let me know in the comments below.
Recommended travel resources
Flights: To search for flight deals check out sites such as Skyscanner, Kayak and Travel Supermarket to compare the costs of flights. My top tip to save money is to fly mid-week and take just hand luggage if possible.

Accommodation: I love a nice boutique hotel on my travel and I regularly use Booking.com as they have fantastic flexibility and cancellation. I also recommend Trip Advisor and hotels combined for hotel browsing. Additionally, I use Airbnb and TrustedHousesitters for homestays.

Travel Insurance: I highly recommend you always get travel insurance for your trips. Check out my Travel Insurance Page to see out why. I recommend World Nomads or Post Office travel Insurance.

Group Tours: I love booking group tours as a cost-effective and convenient way of discovering destinations. I recommend booking a small group tour with G Adventures.

Travel Guides: My favourite travel guide books are Bradt Guides, Lonely Planet and Rough Guides.

For more travel tools, head to my bumper travel resources page now!
Love this post? Why not pin it and share it?