Cyprus in Winter: Why it's the perfect time to Visit
Disclosure: This post may contain affiliate links, which means we may receive a commission if you click a link and purchase something. Please check out our disclosure policy for more details.
Are you considering visiting Cyprus in the winter? It's a great winter destination in Europe with a mix of culture, history, foodie finds and gorgeous hotels.
Cyprus has one of the warmest winters in the Mediterranean part of the EU. This makes it a perfect winter break in Europe to get some sunshine and escape the cold.
Located in the eastern Mediterranean Sea, Cyprus is the third largest island in the Mediterranean and features a rich tapestry of influences from various civilizations throughout its history and is packed with culture and heritage.
Cyprus is renowned for its beautiful beaches that can be enjoyed year-round, with crystal-clear turquoise waters perfect for swimming and snorkelling.
Beyond the beaches, you can explore picturesque mountain villages, roam around ancient ruins, and feast on delectable Cypriot cuisine.
Visiting Cyprus in winter
The beautiful Mediterranean island is a popular choice for holidaymakers, and Cyprus can get very crowded during the busy summer season.
Heading to Cyprus in winter means fewer crowds, cooler temperatures, and better hotel deals.
I love visiting European destinations during the off-peak season. I find it a much more relaxing experience not to be surrounded by tourists.
The image of Cyprus is that it is very much a summer holiday destination, so many people wouldn't consider visiting in the winter.
Why not use this to your advantage and experience Cyprus in the off-peak season and save money on travel?
Cyprus winter temperatures
Cyprus's Mediterranean climate is characterized by hot, dry summers and mild winters.
The winter season in Cyprus typically lasts from December to February; during this time, the island experiences pleasant weather with mild temperatures and cooler nights.
The average daytime temperature in winter ranges from 15 to 20 degrees Celsius in Cyprus, making it an ideal time for outdoor activities without the scorching heat of the summer months.
The nights can be colder in the winter, averaging around 10 degrees Celsius, but still comfortable for outdoor activities with a light jacket.
Why you should visit Cyprus in the winter months
There is so much more to Cyprus than just beaches; there's a huge range of cultural activities, historical sites, pretty villages and gorgeous restaurants to be discovered.
I've included a wide range of tips and activity suggestions so that you can tailor your own Cyprus winter itinerary.
We discuss travel planning on my weekly travel podcast – Travel Goals. If you love listening to travel podcasts, then make sure to subscribe to the Travel Goals podcast.
You'll learn what's new in the travel industry on this show. There are also travel hacks, destination inspiration and stories of travel adventures worldwide.
&np;
Cyprus winter weather
Cyprus in winter has mild Mediterranean winter. The cooler weather makes it an ideal temperature to see Cyprus's cultural and historic sites.
However, the winter weather can be changeable, so you should pack accordingly. Bring a rain jacket and light layers to keep you warm in the evenings.
The average winter Cyprus weather is around 23C in November and 18C from December to February.
Cyprus in December
Cyprus in December, October and November is a good time to visit as the weather is likely to be bright and either sunny or cloudy with sunny spells.
Weather-wise, Cyprus enjoys a mild and pleasant climate during December, though it can sometimes rain, so pack accordingly.
While the rest of Europe grapples with chilly temperatures, Cyprus experiences average daytime temperatures of around 18-20 degrees Celsius (64-68 degrees Fahrenheit) in December.
The days are generally sunny, making it an ideal time for a Cyprus winter holiday.
Cyprus Excursions Might be cheaper
If you want to explore Cyprus or look into day trips from Paphos, you might find that Cyprus tours are cheaper during the winter months.
With fewer visitors looking for tours and activities, you might be able to negotiate prices with local tour operators.
When we visited Latchi Beach in the off-season, we negotiated cheaper boat trips and activities such as parasailing.
Historical sites will be quieter
If you are keen to visit the many historical sites in Cyprus, you will find fewer visitors in the winter.
This means you can take your time to explore places such as Paphos Castle, Kourion, Choirokoitia Village and the Tombs of the Kings.
If you are wondering what to do in Paphos, the Tombs of the Kings is a brilliant place for history and culture fans.
Visiting sites such as Tombs of the Kings in the winter means there are far fewer crowds than in the summer.
It's a more peaceful and enjoyable visit in the off-peak season, especially as the turquoise blue ocean creates a beautiful and calming backdrop.
Here is a list of recommended tours in Cyprus to do in the winter:
Cooler weather for outdoor activities
Summer in Cyprus means super-hot temperatures; the average summer temperature is around 35 °C on the coast. It can be challenging to go hiking in temperatures like these guys!
It is much better to attempt outdoor activities in Cyprus in the winter as the temperature is much better for physical activity.
If you want to go hiking in the Troodos mountains or attempt an Akamas Panoramic Walk, you are better off visiting during the off-season when the weather is mild.
Ask your hotel or guesthouse what local restaurants and tavernas they would recommend. You'll always get your best foodie tips from locals.
If you are wondering what to eat in Cyprus, why not visit local tavernas and try Cypriot dishes? Local specialities include fish meze, Halloumi and stuffed vine leaves.
Car hire might be cheaper
If you want to explore the island, why not hire a car in Cyprus and visit the best spots in Cyprus at your own pace?
If you book your car in advance for your Cyprus winter break, you might find that the rates are cheaper as fewer tourists are looking to hire vehicles.
What documents do you need to rent a car in Cyprus?
Valid Driver's license
Passport
Credit card
Important things to know about renting a car in Cyprus is that it is much easier to rent a car if you are over 25.
Also, renting a car for one day in Cyprus is next to impossible. You are better off hiring one for the entirety of your trip to get the best possible rate.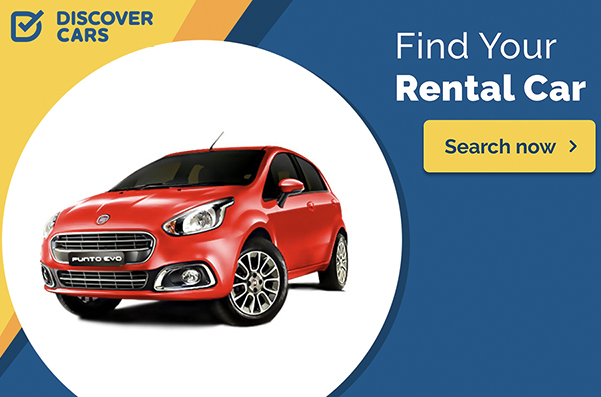 Cyprus Hotels will have better rates
Many Cyprus hotels offer discounted rates during winter to attract visitors seeking a peaceful retreat.
You can enjoy premium amenities such as spa facilities, heated pools, and fine dining without the premium price tag.
The only downside is that you might find that not all hotel services are available in the off-season. You will still find other shops and services running in Cyprus, though.
You can find a hotel to suit your budget and length of time by using my recommended travel resources, such as Booking.com and HotelsCombined, to find the best hotel deals.
Luxury resorts Cyprus
Search for winter hotel deals in Cyprus and upgrade to a luxury resort in the off-season.
One of the primary reasons you can indulge in luxury during the off-season is the attractive discounts offered by upscale hotels and resorts.
As tourist footfall decreases during winter, many establishments entice visitors with substantial price cuts to fill their rooms.
This creates an ideal scenario if you're seeking a luxurious stay at a fraction of the regular cost.
You might also get complimentary room upgrades due to lower occupancy rates if you're lucky. By booking a luxury hotel in the off-season, you increase your chances of receiving an enhanced room category and other extra perks.
Elysium Beach Resort Paphos
Spoil yourself with a luxury hotel during the winter in Cyprus and stay at the Elysium Beach Resort, one of Cyprus's best 5 Star Hotels.
You can book the Elysium Beach resort in advance and get a great Cyprus holiday deal for winter.
The Elysium Beach Resort is a most luxurious stay in Paphos, with swimming pools, a private beach, spa and fine dining.
It's perfect for a couple's romantic getaway in Cyprus and has many facilities and amenities.
Best resorts in Cyprus
The rooms are air-conditioned and are fitted with a large flat-screen TV; there is also a minibar, safety box, free toiletries and hairdryer.
The rooms all have a private bathroom featuring contemporary furnishings and sleek design.
I loved that my room had a spacious balcony overlooking the pool area. Sitting out on the balcony at night and quietly reflecting on my adventures at night with a glass of wine was great.
The hotel has several gourmet dining options, including Cypriot cuisine, pan-Asian and Italian.
You have plenty of choices when it comes to dining at the resort. My favourite part of the hotel is the man-made private beach.
Get up early and be the only person on the beach. Sitting there and hearing the waves crash and no other sounds around you are so peaceful.
Cyprus Restaurants will be quieter
The restaurants in Cyprus will be quieter in the winter season, so you won't have to fight for a table. They may also slash the price of specials and offer lunch and dinner deals to entice you.
Ask your hotel or guesthouse what local restaurants and tavernas they would recommend. You'll always get your best foodie tips from locals.
If you are wondering what to eat in Cyprus, why not visit local tavernas and try Cypriot dishes? Local specialities include fish meze, Halloumi and stuffed vine leaves.
Best Cyprus holiday destinations for the winter?
If you are looking for coastal towns with warm weather, I would check out Paphos, Latchi, Larnaca and Limassol.
Looking for culture, foodie places and city life? Cyprus's capital Nicosia could be an option in the winter.
You could also look at staying in one of Cyprus's idyllic villages, such as Lefkara, Agros, or Kakopetria.
Be aware that you might struggle to find accommodation in the off-season at Ayia Napa.
The popular resort town is mostly empty in winter as it gears up for the summer revellers.
Should I visit Cyprus in winter?
After spending several days exploring Cyprus in November, I can happily conclude that Winter in Cyprus is a wonderful time to visit.
At this time of year, Cyprus is warmer than elsewhere in Europe, and the island is considerably less crowded.
It's a peaceful time to visit, relaxing and refreshing. I love visiting popular places like Cyprus, Venice and Dubrovnik during the winter season as I find it a more enjoyable experience.
There is also the advantage of off-season prices and flight deals. Would you have a Cyprus winter sun break? Let me know in the comments below!
Getting to Cyprus
Larnaca International Airport is Cyprus' main international gateway and the larger of the two commercial airports in the area controlled by the Republic of Cyprus, the other being Paphos International Airport on the island's southwestern coast.
To search for flight deals to Cyprus, check out sites such as Skyscanner, Kayak and Travel Supermarket to compare the costs of flights. My top tip to save money is to fly mid-week and take just hand luggage if possible.
I also highly recommend you always get travel insurance for your trips. Check out my Travel Insurance Page to see why. I recommend World Nomads or Post Office travel Insurance.
Are you planning a trip to Cyprus? Where are you planning on visiting? Let me know in the comments below.
Winter in Cyprus faq
Q: What is the weather like in Cyprus during winter?
A: Cyprus enjoys a mild and pleasant climate during winter. In December, the average daytime temperatures range from 18-20 degrees Celsius (64-68 degrees Fahrenheit). It's generally sunny, but do expect occasional rainfall.
Q: Is December a good time to visit Cyprus?
A: Yes, December is a great time to visit Cyprus. The island is less crowded, allowing you to explore popular attractions without the usual tourist influx. The festive atmosphere and mild weather make it an ideal destination for a winter getaway.
Q: What should I pack for a trip to Cyprus in December?
A: While the weather is generally mild, it's advisable to pack layers and bring a light jacket or sweater for cooler evenings. Comfortable walking shoes, sunscreen, and a hat are also recommended. Don't forget your swimwear to enjoy the indoor pools and thermal baths.
Q: Are there any Christmas markets in Cyprus?
A: Cyprus embraces the holiday spirit with numerous Christmas markets across the island. Popular locations include Nicosia, Limassol, and Paphos. These markets offer various festive goods, local crafts, delicious treats, and entertainment for all ages.
Q: Can I go hiking in Cyprus during winter?
A: Absolutely! The Troodos Mountains are perfect for winter hiking. The trails showcase stunning winter landscapes and provide a peaceful and serene experience. However, it's essential to check weather conditions and be prepared with appropriate clothing and equipment.
Q: Are the archaeological sites and museums open during winter in Cyprus?
A: Most archaeological sites and museums in Cyprus remain open during winter, although some may have reduced hours. It's always recommended to check the opening hours in advance, especially during public holidays.
Q: Can I swim in the sea during December in Cyprus?
A: While the sea temperature may be cooler in Cyprus during winter, swimming is still possible for those who don't mind the cooler water. It's advisable to check the local conditions and be cautious of rough seas or strong currents.
Q: Are there any winter festivals or events in Cyprus?
A: Yes, Cyprus celebrates various winter festivals and events. There is always something happening, from Christmas concerts and carol singing to traditional Cypriot festivals. Keep an eye out for local events and cultural performances during your visit.
Q: What traditional Cypriot dishes should I try during winter?
A: Winter is an excellent time to indulge in traditional Cypriot cuisine. Some must-try dishes include souvla (barbecued meat), stifado (slow-cooked beef stew), kleftiko (oven-baked lamb), and loukoumades (honey-soaked doughnuts). Don't forget to savour the local wines and spirits.
Recommended travel resources
Flights: To search for flight deals, check out sites such as Skyscanner and Google Flights to compare the costs of flights and to book.

Accommodation: I use Booking.com for most of my hotel bookings as they have fantastic flexibility and cancellation.
Airport Parking and Lounges: Save money on airport & travel extras, including; airport parking, airport hotels, and airport lounges with Holiday Extras.

Travel Insurance: I highly recommend you always get travel insurance – I use the Post Office Travel Insurance for single trip coverage and Safety Wing for comprehensive travel medical insurance.

Car Hire: I use Discover Cars to hire cars abroad as they have free cancellation, free mileage and no card fees.

Travel Money: I recommend Post Office Travel Money as you can get competitive rates and 0% commission for your holiday cash.
E-sim Cards: Use Airalo's eSIM app to buy an eSIM for 200+ countries and stay connected when you travel abroad.

For more travel tools, head to my bumper travel resources page now!
Portia has spent years traversing the globe and having many misadventures. She now works as a freelance travel journalist, editor of Pip and the City and hosts the Travel Goals Podcast. She specialises in adventure travel, destination guides and city breaks. Her work has appeared in The Times, National Geographic and Lonely Planet. She can normally be found hiking, swimming outdoors in icy waters, or drinking coffee in bougie cafes.